Getting Around in Quy Nhon, Vietnam
Quy Nhon is a beautiful coastal city of central Vietnam. It is capital city of Binh Dinh Province. Historically, the city's economy was dominant by agricultural and fishing activities, but in recent years, there has been a significant shift in tourism here.
However, Quy Nhon city is interference between a modern city and tranquil countryside. Quy Nhon still preserves the rustic charm of a peaceful countryside and maintains unspoiled by the urbanization, unlike other tourist cities. Small and idyllic, the city has its population of 280535 and only two main roads, Nguyen Thai Hoc and Xuan Dieu Street. Coming to Quy Nhon, tourists can enjoy the feeling of disengaged and relaxed as well as breathe in the nice fresh atmosphere of a coastal city, which is totally different than the denseness, bustling atmosphere and daily traffic jams in developed cities such as Ho Chi Minh City or Hanoi. Quy Nhon also has lots of beautiful sightseeing places, such as beaches remaining pristine not too affected by the people. Delicious street food with fresh seafood but the prices are incredibly cheap is a must try when traveling here. And also, people of Quy Nhon are extremely friendly, enthusiastic, and honest. If you are seeking for a place to relax and temporarily get away from the all of the tiredness of daily life, Quy Nhon is a perfect place to come and give it a try.
Along the coast in Quy Nhon – interesting places to visit
Xuan Dieu Street, one of the most beautiful streets of the city, runs along the coastal beach of Quy Nhon. Every morning, many people, even some over 70-year-old grandma, go there for swimming and sun-bathing as a way to maintain their health and welcome a new day.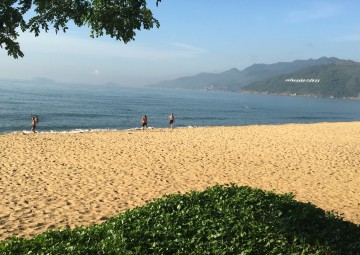 However, for travelers who prefer adventurous journey or discovering unique places that not many people know about, Quy Nhơn has some beaches which are still neglectful and natural. Located at the back of Quy Hoa village, this beach is not easy to get to because of the challenging and rocky roads. However, once you had already come here, you would have not been regret. You will feel as if you have discovered a secret place for yourself, like Alice falls into a rabbit hole and discovers a brand new world. Clean and soft sandy beach, fresh and limpid water which you can even see the whole bottom, and the water level is quite shallow. More interesting, if you are lucky enough, you can swim with little fish covering around.
Ghenh Rang Tien Sa
Located on the West of Quy Nhon, about 2 km away from the center of the city, Ghenh Rang is an attractive place to visit with the beautiful Queen Beach and Han Mac Tu Monument. With a high position above the sea level, from Ghenh Rang you can see the whole coastal Quy Nhon city with the long, smoothly curved white sandy beach.
The road into Ghenh Rang was built on top of a beautiful, gently slope. There is a massive outcrop of rocks and numerous caves with diverse shapes curve along the coast. The salty winds from the sea slightly blow constantly. This fresh and pleasant air helps cool out the boiling hot of the Binh Dinh on summer days. Under the shady trees and the shade of the outcrop of rocks, Ghenh Rang is a fascinating place for sight-seeing and taking impressive pictures.
At the foot of Ghenh Rang, there are numerous layers of rock that have been abraded by waves for thousands of years into the round shapes just like eggs. This is the reason why this place is named the Egg Seashore, along with the Queen beach which is covered by natural layers of rocks. This beach is named after Empress Nam Phuong – the first and primary wife of Bảo Đại, the last emperor of Vietnam- choose this as her private beach. Ghenh Rang lies under the foot of the Xuan Van Mountain, stretches from An Duong Vuong road was the living place of King Bao Dai in 1927 and until 1991, it was classified as a national monument by the Vietnamese Ministry of Culture, Sports and Tourism.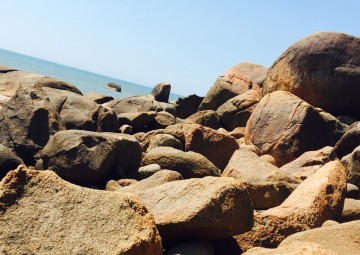 Ghenh Rang's outcrop of rocks
Surf Bar
Located on Xuan Dieu Street, Surf Bar is a fairly new entertainment venues and a unique type of bar that appears only in Quy Nhon. It is the favorite places of many young people, families and tourists to gathering and relaxing when night falls. The space is very delicately decorated with lots of wooden furniture set on sandy beach and the sparkling little lamps hanged and lit that makes it a romantic feeling, charming and gorgeous atmosphere. It is not easy to find anywhere as Surf Bar, where you can experience the feeling of modern and at the same time immerse yourself in nature. You can select a table near the sea, make your feet buried in the soft sand, and enjoy your drinks which are delicately decorated for only 30000-40000 VND while listening to the waves of the sea and feeling the cool breeze from the ocean when the night falls. Besides, if you want to experience a more modern feeling, another option is to sit at the inside bar, enjoy wine and cocktail for only about 60000 VND, listen and get chill in the US-UK songs and rhythms, from Hymn for the weekend by Coldplay or Lana del Rey's High by the beach, forget about all the daily stresses and anxiety you have to face.