Dalat is city of traveling because the weather here is always cool and fresh than other cities in Vietnam. It is not only famous for the beauty of the sights, but also the peace and romance. Therefore Dalat is considered as a "Miniature Paris of Vietnam" that is full of visitors attractively every year. Let's take a food tour around this "Dream City" to find out many interesting dishes!
1. PHO
If you come to Vietnam, you must eat Pho. That's always right. Pho is not only part of Vietnamese cuisine but also our pride. Travelers can easily take a bowl of Pho everywhere across the streets. There are many types of Pho, such as Pho with chicken, pork, and the most popular is beef. The taste between regions is different.
In Dalat, we have Uyen's Pho. Almost everyone passing by is attracted by the old, ancient but no less special features of this noodle shop. Just simply a hand-painted signboard on a silver background, below is a light blue wooden board. Virtual background is too happy for the OOTD shooting, and then eating a bowl of noodles in the right place, hot. After ordering 10 minutes, you will have a bowl full of noodles, beef, and onions. But it's not simple like that. Vietnam has a tropical climate, so all sorts of produce grows basically year-round. You will likely find a basket herbs and vegetables of Thai basil (sharp and biting) and bean sprouts (fresh and crunchy). Messing all the greenery together, finishing the bowl. Pho is great in the morning. Plastic chopsticks in right hand, soup spoon in left. Let's eat!
Address: Uyen Pho, 10 Xo Viet Nghe Tinh St, Dalat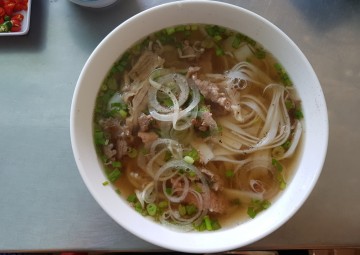 2. VIETNAMESE PORK MEATBALLS BANH MI
This is just a canvas, some sets of tables and chairs at the corner of the crossroads Tran Nhat Duat Street and Hoang Dieu Street. They only sell one dish that is Vietnamese pork meatballs banh mi.
As the name implies, the dish is simply a small bowl of broth with two meatballs, lean pork paste (cha lua), pig skin, and some green onions. the bread is hot and crunchy. Breaking a small piece of bread, dipping all into the bowl, and enjoying. The first impression is the sweetness of the broth which comes from the bones, the aroma of the spices, especially the pungent of chilli, which the seller put into the broth before giving it to the guests, with the scent of scallions. The meatball of this dish is made entirely of lean meat, so it is sweet, less bored. The lean pork paste is not as special as I think, but still have the smooth texture of meat fresh with delicious sauce.
There are three different ways to enjoy the meal. The first is like what I do, breaking the whole bread into the bowl. The second way is to tear the bread into pieces, dip into the water until it sucks enough water, so repeat until the end of piece of bread. The third way is to put the meatballs and other ingredients in the middle of the bread. Despite the different ways of eating, the feeling of the hot, spicy taste of the sauce makes the food stay attached.
A plus for this dish is extremely cheap which costs less than $1. One last note is that the shop only sells from 6am to 9am every day.
Address: 28 Hoang Dieu, Dalat
3. BA HUNG GRILLED SAUSAGE
Nem nuong (literally "grilled sausage"), is Vietnamese grilled pork sausage or grilled meatball. Nem nuong Ba Hung has been in Dalat for more than ten years, Nem nuong is a food that any Dalat people as well as many tourists know. With great taste and good quality of service, even the fastidious customers may be persuaded.
Talking about food in the mountain town can be told long time ago man day after day. And it has been said that Ba Hung Restaurant can tell us a lot of good things, attractive things and even praise for this food. Nem is made from the finest lean meat and especially hot meat. After seasoning, spring rolls are baked into bamboo stick and grilled on charcoal to make the yellow incense will create a special smell that anyone once tasted will be hard to forget. An indispensable ingredient in this dish is raw vegetables. The taste of more than ten kinds of fresh vegetables characteristic of Da Lat blends with the delicious taste of spring rolls. Rice paper rolls for rolls are ordered from Nha Trang City. Additionally, the ingredient that makes this dish special is the the sauce of which recipe is belonged to family for several generations.
Rolling up Nem with raw vegetables in a slice of girdle cake from Nha Trang and dipping into a cup of yellow paste sauce, you will feel the delicious taste and delicacy wonderful. Slowly bite the roll to hear the crunchy sound of fried bread plus the dipping sauce. And it would be more interesting if there were more people eating there. Tasty food spins the story that!
Address: D51-52 Hoang Van Thu St, Dalat - 18 Phan Dinh Phung St, Dalat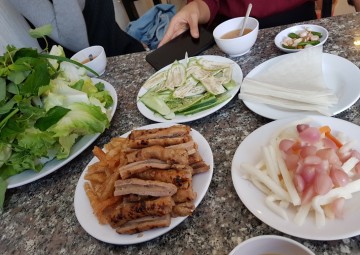 4. BANH BEO NUMBER 4
A bánh bèo (literally "water fern cake") is a variety of small steamed rice cake or rice pancake in Vietnamese cuisine. It is white in color and typically features a dimple in the center, which is filled with savory ingredients including chopped, dried or fresh shrimp, fish sauce, rice vinegar, and oil. It is considered most typical of the cuisine of Huế, the ancient royal capital located in the center of Vietnam.
In Da Lat, there are many places to sell banh beo, but Number 4 restaurant has a very personal taste, once eat is forever remembered. Not only local people love it, many tourists also come to enjoy. It can be said, the topping is the factor that makes this banh beo standing out. Dried shrimp and lean meat are two common topping. On the top is sprinkled onion and fresh green onion. It is attractive because there are some pieces of crispy fried pork skin and some shrimp pancakes placed on the plate. Ms Huong, the owner of the restaurant, said that the crispy fried pork is very elaborate, pork skin in the market is soaked in salt water, then boiled and roasted to dry. A cup of hot tea is a great combination with banh beo for your lunch.
The restaurant also serves flan and yogurt as desserts for customer. They have a perfect balance of milk and sweetness.
Address: 402 Phan Dinh Phung St, Dalat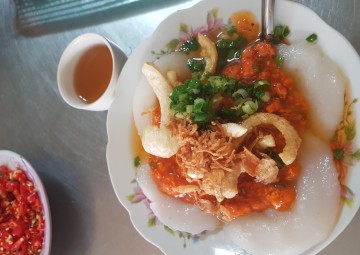 5. LAU GA LA E TAO NGO ( CHICKEN HOT POT WITH É LEAVES)
At the small restaurant specialized for local people named Tao Ngo, house number 5 on the 3/4 Street (about 2 km from Xuan Huong Lake) has a interesting dish called "chicken hotpot é leaves" . According to oriental medicine, é leaf is a medicine to reduce diseases such as colds, sore throat, stimulate digestion, especially Dyspepsia, which is indigestion that people may also experience feeling full earlier than expected when eating. So if you are suffering from those diseases, then this is the "medicine" for you. Chicken cooked in the shop is a "jogging chicken" or also called hill chicken rather than chicken raised on factory farms. Therefore, its meat is firm, sweet, and less fat. Everyday, the average sales is about a quintal of chicken or 100 kilogram. Besides the é leaves, the pot is also added fresh bamboo shoots, crispy tasty to make the dish more delicious. In the cold night, it will be the best time to enjoy this hot pot. One hot pot dish of chicken prices 200,000 VND, approximately $10, consists of half chickens cut in pieces, a large rice noodle disk, a mushroom dish and a plate of vegetables. Hot broth is specially made with the aromatic, spicy chili of puree. You should not dip É leaves into the hot pot for too long, just only one minute because it will make the vegetables crushed, just eat a little raw to feel the crunchy, aroma, the smell of the é leaves.
In addition, the restaurant also has delicious steamed pork with rice paper. If you have the opportunity to visit Dalat, you should not miss this dish!
Address: Tao Ngo hotpot, number 5, ¾ St, Dalat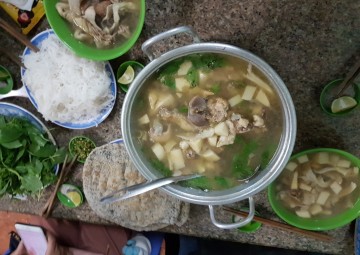 6. BANH CAN
Banh can Dalat is very simple but attracts lots of diners. The ingredients to make banh can mainly come from normal grains like other rice cakes. The seller must focus on the preparation stage to have crispy banh can. Rice is soaked in water, then finely ground with some dry rice, flour is poured in molds and baked directly on the brazier. According to one's taste, diners can choose stuffing for banh can, pork, shrimp, quail egg poured on the surface of banh can, when banh can is cooked it is presented in pairs on the plate and eaten with fish sauce, green onion, and meetballs.
The shop is near Da Lat market, the end of the way from Tang Bat Ho turn. Space is small but not too crowded. A pothole is enough to put a couple of tables and plastic chairs close together. The processing area, kitchen, is also near to the dining table, creating a sense of closeness between the staff and the guests, and guests can directly follow the process of creating a new batch of bread, how interesting it is! Cake made from rice flour, cooled rice has dried, then poured into small holes in the cake and then bake until dry, add the person according to the taste of each customer.
Address: Tang Bat Ho St, Dalat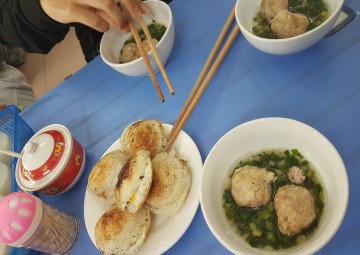 7. COOL AVOCADO SMOOTHIES THANH THAO
In Dalat, avocado smoothies is famous. Everyone who comes here do not want to miss this delicious dessert. They believe that the taste in Dalat is much delicious and quite different from the other places where you've ever. Is the avocado in Dalat has excellent taste, or the cold air that made cream more palatable?
The avocado is finely ground and put in a large bucket. When you come to buy, the seller will take ice cream into a cup, add a white coconut cream. It is not too sweet despite of condensed milk, and it has a slight durian taste. People who do not like durian can still eat it. You can mix coconut cream and avocado smoothies into a new one. Or, eat separately to enjoy it to feel the fat, delicious durian taste, and the nutrition from avocados.. A cup of cream just only 15,000 VND, less than $1.
The fruit mixture dish consists of fresh fruit, coconut milk, coconut cream in the middle, coconut cure in top. If you want to eat only one kind of fruit, you can order to the waiters. The fruit is very fresh, easier to eat than avocado only.
Address: Thanh Thao, 76 Nguyen Van Troi St, Dalat
8. SOY MILK
Besides coffee, the glass of hot soy milk in the early morning or at night has taken root in the life of many local residents. Soy milk is rich in calcium, protein, vitamins and minerals that meets the needs of Vietnamese people, with prices suiting the. These nutrients provide energy and keep your body functioning at its optimum level. In Dalat, soy milk can be mixed with condensed milk, peanuts, green beans, especially the egg yolk. The seller has a large pot full of soy milk, put under a coal stove, surrounded by small stools, and customers will sit around the stove enjoying hot soy milk. Everybody sits next to each other, sipping hot soy milk, spreading warm, chatting and sharing their stories. On the pedestrian street of Tang Bat Ho Street, on the weekends guests sit tight spills a ramp to drink milk. Having guests like to drink soy milk mixed with cow milk characteristics, peanut milk, bean in milk or eat some more like croissants, marzipan. Most visitors prefer to sit on the small chair hands "hug" soy milk to keep warm. The meal only takes you no more than $1 but the experience is very expensive!
Address: Tang Bat Ho St, Dalat